Buy Nikola Stock
Nikola stock certificate shown in a premium frame with engraved plaque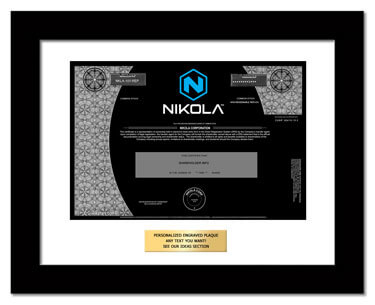 Buy Nikola Stock
Link to give a share dot com website

One real share of Nikola stock packaged as a gift. The recipient becomes a real shareholder of Nikola Corp entitled to all shareholder perks. Let them OWN what they love!
A great gift for anyone and a good way to teach kids about stocks.

Nikola Corp
Stock Market: NASDAQ
Stock Symbol: NKLA
Nikola Engraved Plaque Ideas
DRIVE LIKE YOU OWN THE COMPANY
BECAUSE NOW YOU DO!
MERRY CHRISTMAS
is this the next tesla?
hopeful nikola shareholder
HAPPY BIRTHDAY
my first stock
boom or bust
it will be a fun ride!
more plaque ideas
Customer Reviews

4.9 out of 5
(865 reviews)