Buy Lyft Stock
Lyft stock certificate shown in a premium frame with engraved plaque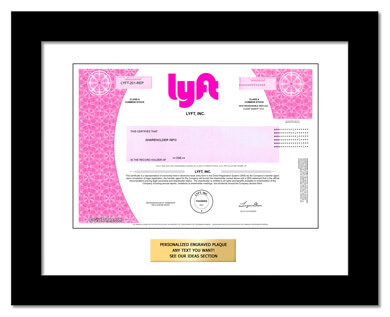 Buy Lyft Stock
Link to give a share dot com website

One real share of Lyft stock packaged as a gift. The recipient becomes a real shareholder of Lyft entitled to all shareholder perks. Let them OWN what they love!
A great gift for anyone and a good way to teach kids about stocks.

Lyft
Stock Market: NASDAQ
Stock Symbol: LYFT
Lyft Engraved Plaque Ideas
I SURVIVED
THE LYFT IPO!
CLYDE SHAW -2018
OFFICIAL SHAREHOLDER
LYFT - 2019
AS A MATTER OF FACT
I DO OWN THE COMPANY!

more plaque ideas
Customer Reviews

4.9 out of 5
(865 reviews)