Buy Dreamworks (Comcast) Stock
Dreamworks (Comcast) stock certificate shown in a premium frame with engraved plaque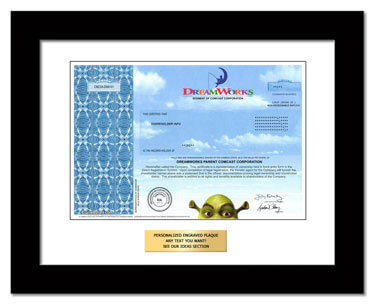 Buy Dreamworks (Comcast) Stock
Link to give a share dot com website

One real share of Dreamworks (Comcast) stock packaged as a gift. The recipient becomes a real shareholder of Dreamworks(Comcast) entitled to all shareholder perks. Let them OWN what they love!
A great gift for anyone and a good way to teach kids about stocks.

Dreamworks(Comcast)
Stock Market: NASDAQ
Stock Symbol: CMCSA
Dreamworks (Comcast) Engraved Plaque Ideas
SHREK & Master Po Ping WORK FOR ME!
Official shareholder
2022
Now I profit from watching CSI
Owner of NBC Entertainment
Comcast Corp.
COLLEGE TUITION - 2038
MILES S. THOMPSON
OFFICIAL SHAREHOLDER!
more plaque ideas
Customer Reviews

4.9 out of 5
(865 reviews)