Buy Coca-Cola Stock
Coca-Cola stock certificate shown in a premium frame with engraved plaque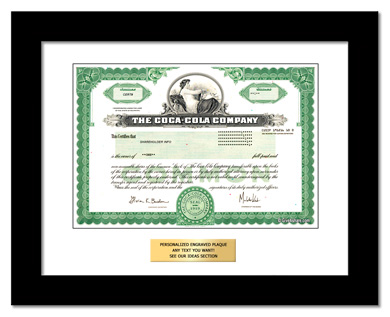 Buy Coca-Cola Stock
Link to give a share dot com website

One real share of Coca-Cola stock packaged as a gift. The recipient becomes a real shareholder of The Coca-Cola Company entitled to all shareholder perks. Let them OWN what they love!
A great gift for anyone and a good way to teach kids about stocks.

The Coca-Cola Company
Stock Market: NYSE
Stock Symbol: KO
Coca-Cola Engraved Plaque Ideas
NOW YOU OWN THE REAL THING
DRINK UP AND PROFIT!
HAPPY SWEET 16
JOHNNYS FIRST COKE!
2022
UNCLE MIKE
OUR LOVE
"ITS THE REAL THING"
HAPPY 1ST ANNIVERSARY !
more plaque ideas
Customer Reviews

4.9 out of 5
(865 reviews)