Buy Bank of America Stock
Bank of America stock certificate shown in a premium frame with engraved plaque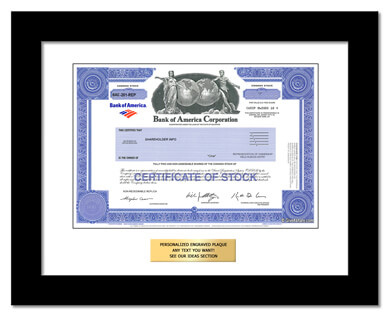 Buy Bank of America Stock
Link to give a share dot com website

One real share of Bank of America stock packaged as a gift. The recipient becomes a real shareholder of Bank of America entitled to all shareholder perks. Let them OWN what they love!
A great gift for anyone and a good way to teach kids about stocks.

Bank of America
Stock Market: NYSE
Stock Symbol: BAC
Bank of America Engraved Plaque Ideas
INSTEAD OF A SAVINGS BOND
I BOUGHT YOU A BANK!
I WAS THERE!!!
2008 FINANCIAL MELTDOWN
HISTORICAL COLLECTIBLE
MY PIGGY BANK
IS BIGGER THAN YOURS!
more plaque ideas
Customer Reviews

4.9 out of 5
(865 reviews)